An opportunity Northern Ireland can't afford to waste
30 June 2020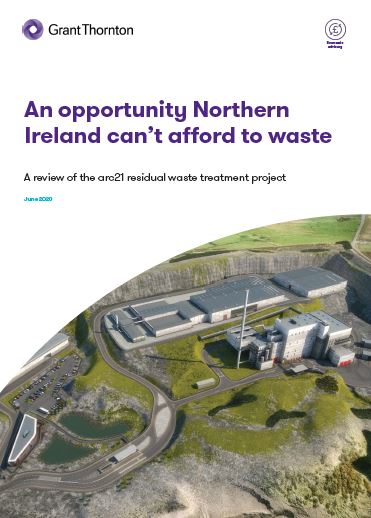 arc21 has welcomed a report by Grant Thornton into its £240m residual waste project which has found that it is an essential element of Northern Ireland's waste management plans and a significant economic enabler funded by foreign direct investment.
The report examines the strategic imperative for the infrastructure project within a wider UK and European environmental and economic context.
According to Grant Thornton this comes at a time when local government finances are under severe pressure and the ability to landfill our waste is reducing significantly due to the implementation of the Circular Economy Package (CEP) targets into UK law. All against the backdrop of a worsening economic situation due to the pressures of a global pandemic.
Speaking about the report findings, Andrew Webb, Chief Economist, Grant Thornton, said:
"The arc21 residual waste project offers a compelling solution which is in line with modern international best practice for environmental protection and climate change mitigation. The fact that this public infrastructure will be delivered through foreign direct investment at a time when public finances are severely limited is also significant."
The arc21 project is designed to deliver a sustainable approach to NI's residual black bin waste and divert it from landfill. This will be achieved through the development of additional recycling facilities and an Energy from Waste (EfW) plant which will generate enough electricity to power 30,000 homes. It will be a council owned asset serving the needs of arc21's six member councils which account for almost 60% of NI's population.
Tim Walker, arc21's acting CEO, added:
"The report is a timely reminder why Northern Ireland needs modern, green infrastructure to manage its waste more effectively. There is little to no resilience in our existing facilities to deal with the current volumes of household waste that can't be recycled.
"Developing these facilities will give us the capacity to protect these vital services, but also allow us to turn our waste into something with less impact upon the environment, that creates jobs and supports the Executive's ambitions to support economic recovery by growing the circular economy and clean energy sectors."
NI faces a significant challenge to manage its waste. We currently landfill approximately 300,000 tonnes and export a further 140,000 tonnes of our residual black bin waste each year to fuel Energy from Waste plants across Europe. These are not legitimate or sustainable long-term solutions. It is vital therefore that we develop the necessary infrastructure to deal with our residual (largely unrecyclable) waste in the same way the rest of the UK, Ireland and most other European countries already have.
The report also reinforces the direct economic impact of the project, from construction through to operation. The proposed £240m inward investment is estimated to support around 340 permanent direct and indirect jobs annually, generating £7.7m in total wages and contributing £24.7m of GVA to the NI economy.
The report can be downloaded here