Pre Market Engagement for Residual Waste Treatment Interim Services
07 June 2021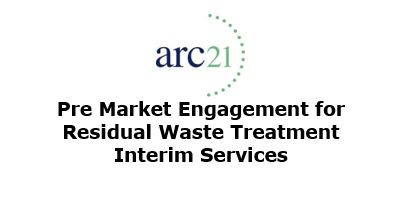 arc21 is considering short term options in relation to the treatment and energy recovery/disposal of residual waste focusing on residual waste streams including, but not necessarily limited to: waste derived from households, commercial premises, household recycling/civic amenity centres; fly tipped waste; bulky waste and street litter waste and has initiated a Pre Market Engagement exercise.
As part of this process, arc21 is keen to obtain the views of potential private sector partners on the key issues involved in procuring and delivering new residual waste treatment contracts for the region to inform the decision-making process currently underway.
More detail is set out within a notice, Information Memorandum and Questionnaire. Interested parties are requested to log in and download the documents from the etendersNI site https://etendersni.gov.uk/epps/home.do
no later than 12 noon on Friday 18 June 2021, and

to complete and return the Questionnaires no later than 17:00 on Friday 18th June 2021 using the e-tenders Messaging function

.
In addition to submitting written responses to the Questionnaire, representatives of contractors shall be invited to a virtual meeting to discuss their responses to the Questionnaire and views on the Services in greater detail. Contractors are asked to indicate their preference, based on availability, for such a meeting within the allocated slots identified in the questionnaire w/c 21st June 2021 within their returned questionnaire.