Circular Economy Moves Up Policy Agenda
02 December 2020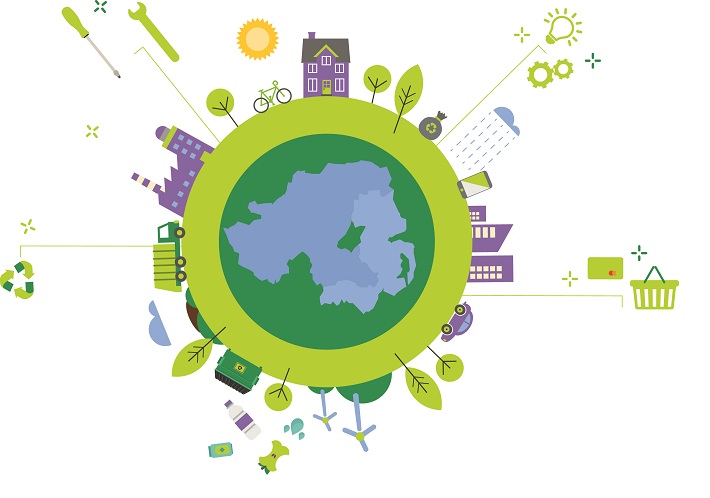 As the need to develop Northern Ireland's Circular Economy continues to rise up the political agenda, it's encouraging to note the increasing number of Government policies being aligned to support its growth.
Last week the Environment Minister, Edwin Poots, referenced the Circular Economy during a visit to a local waste facility. Mr Poots said:
"I recognise the importance of a low carbon circular economy for Northern Ireland in promoting a Green Growth agenda. I and DAERA officials will continue to work closely with the Department for Economy on the circular economy and will provide appropriate input into innovative solutions."
On the same day during a visit to a waste management company, the Minister added:
"Minimising waste and maximising the value of that waste boosts our local economy and I'd like to see more and more businesses in Northern Ireland being innovative and proactive to grasp the momentum behind recycling."
The Circular Economy has many applications across a diverse range of sectors, including waste management. It challenges us to view waste as a 'resource' rather than 'rubbish' – something which can be used to create new economic and environmental opportunities.
Using waste to support the Circular Economy means continually increasing both the amount of material we recycle and its quality. This will provide firms which use recycled materials to create new products with better raw materials. It also means developing new, green infrastructure such as that proposed by arc21 at Hightown Quarry.
Last month the Ministerial Panel on Infrastructure, which was created by the Infrastructure Minister, Nichola Mallon, published its report:
"…turbo-charging infrastructure "to deliver cleaner, greener, sustainable and inclusive growth for all."
arc21's proposals to develop a Mechanical Biological Treatment facility and Energy from Waste plant will increase recycling rates, produce recycled materials for the construction industry and generate green energy to support the Circular Economy and Clean Energy sectors.
The facilities will also reduce greenhouse gases by 57,000 tonnes annually by diverting waste from landfill, helping contribute to Northern Ireland's net zero targets. Speaking at the Northern Ireland Assembly the Infrastructure Minister, Nichola Mallon, confirmed:
"Climate change is the single biggest environmental challenge that we face today, so it is vital that we work together towards a zero-carbon future that delivers better outcomes for our people, our economy and the environment. There is an urgent need to reduce emissions in order to tackle the climate emergency that we face and reach net zero as quickly as possible. As Infrastructure Minister, I have a clear agenda on climate change."
The Ellen MacArthur Foundation describes the Circular Economy as:
"Looking beyond the current take-make-waste extractive industrial model, a circular economy aims to redefine growth, focusing on positive society-wide benefits. It entails gradually decoupling economic activity from the consumption of finite resources, and designing waste out of the system."
By changing behaviours and utilising innovative technology in new infrastructure it's possible to not only support our critical waste services, but to use waste to support wider policies tackling climate change and the Circular Economy.